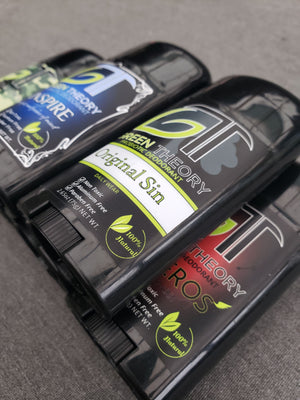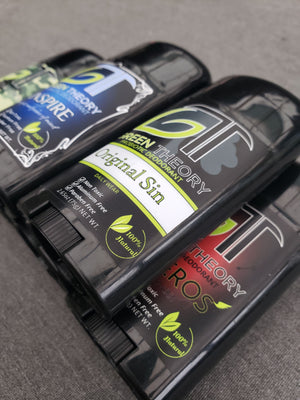 Fresh pits and
peace of mind.
The most effective aluminum free, probiotic deodorant on the market.
Deodorant with swagger
Your current deodorant doesnt match up
Our industry unique formulas push the landscape of natural products further than it ever has been. Our products not only avoid causing damage to your health but rather, enhance your health.
All Green Theory products are made only with high quality natural ingredients. Our deodorants contain more strains of probiotics than any other brand and are completely aluminum free plus contain bentonite clay that naturally detoxes you each day!
Shop Now
★★★★★

I absolutely love this product! I have been buying Green Theory men's deodorant for several years now and have enjoyed it every day since. My favorite scents are Original Sin and Anteros, which is what I always come back for. It is nice to know that there is a great local, and natural product I can count on to keep me protected and smelling good throughout the day.

Kevin R.

Eugene, OR
★★★★★

I have never seen any hair clay until Green Theory with fewer than 20 ingredients. Green Theory uses ingredients that sustain the health of your hair and more - nothing harmful (like 5 natural ingredients, I believe). I have tried dozens and dozens of different hair products, from Aveda to Bed Head and everything in between. Green Theory smells healthy and feels healthy because it Is healthy! I wish I found this clay years ago.

Craig

Utah
★★★★★

This is a great product. I'm really impressed with it--I also purchased the Lavender & Evergreen deodorant for my wife and she loves it! I work at a desk 40+ hours a week, and I still had a strong underarm odor. It was even worse when I worked out. In fact, my wife described it as "meaty". Anyway, this stuff worked right away. On the first day, it dampened my smell which was already a huge improvement. By the second or third day, I didn't even notice my body odor anymore. I've only been using this product for one week, and it works amazingly! Initially, I thought it was weird ordering deodorant online but not when the product works this well. I'm really happy with my purchase and appreciate finally having deodorant that actually works.

Jose
★★★★★

Due to some health issues I was suffering from foul body odour recently. It was embarrassing and I tried several different products to no avail. This deodorant not only worked wonders on the stink but it was easy to apply and very long lasting. Highly recommend and thank you to the company for such an awesome product!

Victoria
★★★★★

This is my third time buying Green Theory products. Biohazard so far is my favorite. I'm a gym junkie and this stuff keeps me dry and smelling fresh the whole time. The best part is that it's all natural and chemical free. Five stars.

Jarrod
There is a better option
I'm Tim, the owner of Green Theory.
I started Green Theory Natural Products as a solution to my own problem of not being able to find a natural deodorant that appealed to me. There were a bunch of lame scents for men on the market and there had to be a better option. I believe the world would be a better place if things were just more simple and so I set out to start a business with that in mind.
Our vision is to change the way people think about natural products. We do this by producing effective and safe products that inspire confidence while producing results without compromise.
Learn More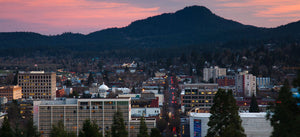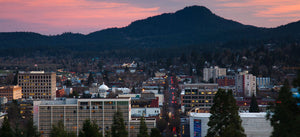 proudly made in eugene, oregon