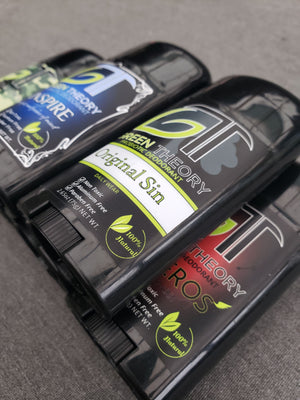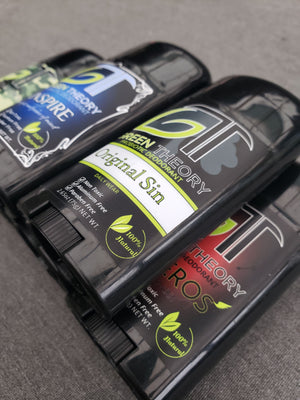 fresh pits and peace of mind
HARNESS THE ODOR FIGHTING POWER OF PROBIOTICS
★★★★★

BEYOND MY EXPECTATIONS

Best deo I have used very effective and cost friendly it really lives up to its purpose and the smell isn't overwhelming...smooth glide and probiotics is a plus....great product!!!!

Antuan

Anteros
★★★★★

AMAZING PRODUCT, HAVE BEEN A CUSTOMER FOR YEARS

I absolutely love this product! I have been buying Green Theory men's deodorant for several years now and have enjoyed it every day since. My favorite scents are Original Sin and Anteros, which is what I always come back for. It is nice to know that there is a great local, and natural product I can count on to keep me protected and smelling good throughout the day.

Kevin

Original Sin/Anteros
★★★★★

THIS IS A GREAT PRODUCT

I'm really impressed with it--I also purchased the Lavender & Evergreen deodorant for my wife and she loves it! I work at a desk 40+ hours a week, and I still had a strong underarm odor. It was even worse when I worked out. In fact, my wife described it as "meaty". Anyway, this stuff worked right away. On the first day, it dampened my smell which was already a huge improvement. By the second or third day, I didn't even notice my body odor anymore. I've only been using this product for one week, and it works amazingly! Initially, I thought it was weird ordering deodorant online but not when the product works this well. I'm really happy with my purchase and appreciate finally having deodorant that actually works.

Jose

Biohazard
★★★★★

REPEAT BUYER

This is my third time buying Green Theory products. Biohazard so far is my favorite. I'm a gym junkie and this stuff keeps me dry and smelling fresh the whole time. The best part is that it's all natural and chemical free. Five stars.

Jarrod

Biohazard
Natural goes from just "healthy" to good for you
At Green Theory we believe that you deserve more out of the products that you use than just a feel good "natural" mention on the label. We're kicking things up a notch to actually being GOOD FOR YOU with our deodorants.
How? Our star sidekick ingredient is bentonite clay which reverses it electrical charge when it contacts moisture which attracts toxins, pulling them out of the body. You get a daily detox from wearing deodorant!
Green Theory products are handcrafted, small batch scents made in Oregon for people of all walks of life.
Shop Mens probiotic Deodorant
TRUly natural.
↣ ALUMINUM FREE - Aluminum in "antiperspirants" mimics estrogen in the body leading to fatigue, erectile dysfunction and gynecomastia or, "breast development" in men. It's also been linked to alzheimers.
↣ ODOR KILLING PROBIOTICS - Some bacteria in your underarms feeds on your sweat which produces body odor. We add 10 strains of good bacteria setting up a competition for living space, eradicating bad bacteria, giving you longer lasting and more effective odor protection.
↣ TRULY NATURAL -  You'll recognize or be able to read every ingredient on our list because they're actually natural. Bet you can't do that with other "natural" brands out there for men.
↣ HEALTHIER YOU - Bentonite clay reverses it's electrical charge when it contacts moisture, attracting toxins and pulling them out of the body.
↣ 100% SATISFACTION GUARANTEE - Dont absolutely love it? Shoot us an email and get your money back.
All natural probiotic deodorant for men